Best of North India & Nepal
Duration: 11 Nights / 12 Days
Destinations Covered: Delhi - Kathmandu - Varanasi - Khajuraho - Agra - Jaipur - Delhi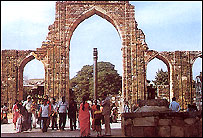 Arrive in Delhi. Traditional welcome and transfer to hotel.
Day 1: Arrive DelhiDay 2: Delhi
Morning tour of Delhi visiting Raj Ghat and Shanti Vana ( the cremation sites of Mahatma Gandhi and Jawaharlal Nehru ), Jama Masjid and drive past Red Fort and Chandni Chowk. Afternoon: visit Qutub Minar, built by Qutub-ud-Din Aibek in 1199, Humayun's Tomb, India Gate ( War Memorial Arch ), and the Lakshminarayan Temple - a modern Hindu Temple. Also drive past the President's House, Parliament House, Government Secretariat Buildings and the Connaught Place shopping centre. Overnight.
Day 3: Delhi - Kathmandu
Morning: transfer to airport for Kathmandu flight. Transfer to Hotel. Overnight.
Day 4: Kathmandu
Morning: visit the Durbar Square, Hanuman Dhoka, the ancient royal residential quarter, Mahadev and Parvati Temple and other temples.Afternoon visit Patan (old newar city ).Overnight.
Day 5: Kathmandu
Morning visit Bhaktapur. Overnight.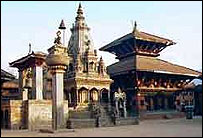 Day 6: Kathmandu - Varanasi
Transfer to airport for Varanasi flight. Arrive Varanasi & transfer to Hotel. Overnight.
Day 7: Varanasi
Early morning boat excursion on the river Ganges, a ferry pilgrimage from ghat to ghat. The two cremation ghats are Manikarnika & Harishchandra, where a funeral pyre burns day and night. Every pious Hindu believes that to die in Kashi and to be cremated on banks of the Ganges, is to attain release from the cycle of birth and death.
Afternoon drive to Sarnath Temple. Overnight.
Day 8: Varanasi - Khajuraho
After Breakfast, transfer to the airport for Khajuraho. Upon arrival, transfer to Hotel and check in. Afternoon: Half day sightseeing of world famous Khajuraho Temples. Overnight at Hotel.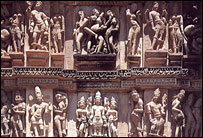 Day 9: Khajuraho - Agra
Transfer to the Airport for Agra . Arrive in Agra and transfer to hotel.
IN CASE THERE IS NO FLIGHT THEN
:
Day 9
: Khajuraho-Jhansi (177 kms) Jhansi-Agra by Shatabadi train (1755/2025)
Drive to Jhansi to board the train to Agra. Arrive in Agra and transfer to hotel.
Day 10
:
Agra/Jaipur (250 kms)
Morning visit the world famous Taj Mahal, built by the Moghul Emperor Shahjehan in 1630, for his Queen Mumtaz Mahal, to enshrine her mortal remains. Later, visit the Agra Fort containing the Pearl Mosque, the Halls of Public and Private Audience. Also visit the Tomb of Itmad-ud-Daullah built by Empress Noorjehan in memory of her father.
Drive to Jaipur visiting Fatehpur Sikri enroute. Fatehpur Sikri is 40 kms from Agra and was built by Emperor Akbar in 1569 and abandoned after 15 years due to scarcity of water. See the graceful buildings including the Jama Masjid, Tomb of Salim Chisti, Panch Mahal and other Palaces. Overnight Jaipur.
Day 11: Jaipur
Morning: visit Amber Fort, the ancient capital of the State. Visit the Sheesh Mahal, or the Hall of Victory, glittering with mirrors.

Afternoon: tour of Jaipur, the capital of Rajasthan. This city was given a coat of pink colour a century ago in honour of a visiting Prince and it has retained this colour ever since. Built by Maharaja Jai Singh, a notable astronomer, this city is now 260 years old. Visit Maharaja's City Palace, the Observatory & Ram Niwas Gardens. Drive past Hawa Mahal & through the residential & business areas. Overnight Jaipur.

Day 12: Jaipur - Delhi ( 250 Km. )
Drive to Delhi. Transfer to airport for onward Journey.


Click here for Reservation / More Information