Yoga and Rejuvenation
Duration: 11 Nights / 12 Days
Destinations Covered: Delhi - Rishikesh - Mussoorie - Deoprayag - Chakrata - Corbett - Delhi - Agra - Delhi
Day 1: Arrive Delhi
Garlaning and transfer from Airport to Hotel. Afternoon fun day sightseeing of Old and New Delhi.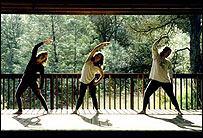 Day 2: Delhi - Rishikesh - Mussoorie
Dep. from Delhi/ Rishikesh/ Mussoorie. Arr. at CHEETAL REST HOUSE for lunch. Dep. from CHEETAL REST HOUSE to Rishikesh/ Mussoorie. Arr. at Rishikesh/ Mussoorie and check in, Registration and Distribution of YOGA kits. Dinner.
Day 3: Introduction of Yoga
Breakfast, inaugural ceremony. Lunch. Initiation and introduction of YOGA. Tea Break. Meditation and Pranayam etc. Local sightseeing Cultural Programme followed by dinner.
Day 4: Yoga Demonstration and Practice
Universal Prayer, YOGA Demonstration and Practice of Asanas Tea/ Coffee break practice of Asanas and consultation for specific problems and remedies through YOGA. Lunch break. Visit to HERBAL GARDENS/ Ashrams. Pranayam and Meditation. Dinner.
Day 5: Yoga Practice
YOGA Practice/ Prayer & Demonstration. Lunch break Pranayam & Meditation. Dinner
Day 6: Yoga Practice
YOGA Practice/ Prayer & Demonstration local Sightseeing and Souvenir. Lunch break Pranayam & Meditation. Dinner.
Day 7: Deoprayag - Chakrata
Departure & Deoprayag/ Chakrata. Lunch at Deoprayag/ Chakrata. Return journey. Dinner.
Day 8: Yoga Practice
YOGA Practice/ Prayer and Demonstration. Lunch Break, question Answer session Closing ceremony dinner.
Day 9: Corbett National Park
Breakfast Departure to Corbett National Park. Lunch Enroute. Arr. at Corbett National Park, dinner and night stay at forest rest House/ KMVM Tourist Banglow.
Day 10: Corbett National Park
Breakfast Sightseeing in Corbatt National Park with Lunch at Forest Rest House/ Dinner at places of half Departure to Delhi by Bus.
Day 11: Delhi
Arr. Delhi transfer to Hotel. Day free for shopping.
Day 12: Agra - Delhi
A day return trip to Arga by Train/ Car/ Coach and on arrival back to Delhi transfer straight to Airport to board International flight for home.
Click here for Reservation / More Information
Spa and Ayurveda Tour
Duration: 12 Days
Destinations Covered: Mumbai - Cochin - Periyar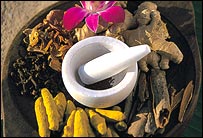 Day 01: Mumbai
Arrive Mumbai. Transfer to hotel.
Day 02: Mumbai - Cochin - Periyar
Transfer to the airport to connect flight for Cochin. Upon arrival drive directly to Periyar which lies in the shade of Cardamom Hills and is a beautiful area of tranquil and winding roads, tea gardens, rubber estates and spice plantations. After check-in at the hotel.you have the option of visiting the resident
Vaidya
( Ayurveda Doctor ) for consultations.
Day 03 - Day 9: Periyar
Ayurveda Therapy at Periyar. Seven days are set aside for the Ayurveda Therapy. The resident Doctor after consultations, plans your programme and will also suggests your diet and the therapy commences in the right earnest. Please remember that during this period it is recommended n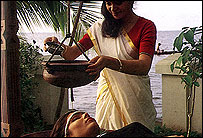 ot to exert yourself and for best results no alcohol, no tobacco and a strictly vegetarian diet. The therapy involves various herbal massages, steam baths and yoga. If you follow all the directions of the Vaidya, we can assure that you will come out totally relaxed and with a great feeling. Remember to bring some of your favourite books to catch up on all the reading you may have missed.
Day 10: Periyar
The Rejuvenation Therapy is over, but it is best to relax and allow your body to re-adjust after one week of treatment
Day 11: Periyar - Cochin
Your last day at Periyar - perhaps you could do a boat safari in lake Periyar to view the wild life. After lunch drive to cochin. Check-in at hotel.
Day 12: Cochin
During morning hours a short tour of Cochin - a natural harbour. Vasco-de-Gama has the credit of placing it on the world map. Cochin is known for its Jewish Synagogue, Portuguese churches, mosques & Hindu temples. Watch the Chinese Fishing Nets. Later drive to airport to board flight for onward journey.
Click here for Reservation / More Information