Golf Tour
Duration: 14 Days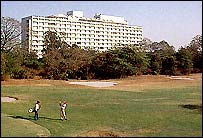 In India you can golf almost anywhere, for this outdoors sport is widely played by cross-section of people to the country's often dramatic background. In the hills and high Himalayan vastness, in metropolitan cities and in small towns, by lakes and forests, or surrounded by tea estates, out in the desert and in old British cantonments….. the flavour of India is visible everywhere. You can stroll off the course to share a piping hot tea at a "Dhaba", tee-off from the highest 18- hole course in the world, watch a peacock dance on a green or play on a course that is by old monuments and beautiful buildings. In India anything is possible and playing golf here will enable you to experience the country in a unique manner.
A JOURNEY THROUGH THE "RAJ" DAYS
As the name suggests, this tour would take you down the historical path of the British Colonial days in India. India was the first country after UK to have a golf club. The clubs at Calcutta, Shillong, Delhi and Bombay still have a flair of the past. In India we still hire "caddies". The kit can be hired as well. We will organise the transportation to and from the club. We can organise interesting activities for the non playing companion. Most of the hotels on these trips are very close to the Golf course. As a guest player. You will not have to wait long to tee-off.
Itinerary and cost on request
Click here for Reservation / More Information
Palace On Wheels Tour
Duration: 7 Nights / 8 Days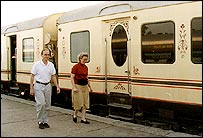 Palace on wheels is a journey worthy of Kings. No wonder the experience is labelled the Palace on Wheels. With its cream saloons, with a border of flowers, chug through Rajasthan on a journey through the former royal kingdom of this state. Once ruled by kings whose presence lingers on its forbidding fortress, and fairytale palaces, now converted into museums and hotels, and restaurants where retainers serve truly royal repasts. Newly assembled at the coach factory in Madras, it is fully vestibuled and centrally airconditioned, truely a palace on wheels.
Each Coach named after the former princely states, has 4 twin bedded chambers, thoughtfully decorated in ethnic Rajasthani décor. Channel Music, Intercom, Attached washrooms with hot & cold water and Wall to Wall carpeting are some of the facilities to make you feel at home. Each saloon has personal attendants or Khidmatgars, who are at your beck and call to extend a courteous helping hand, should you need anything.
Itinerary and cost on request
Click here for Reservation / More Information
Royal Orient Tour
Duration: 7 Nights / 8 Days
The Royal Orient - a most rare and luxurious train journey anywhere in the world, is also one of the last great extravaganzas left of a bygone princely era. It is a voyage back in time with a thrilling assortment of serene lakes, ancient temples, a beautiful sea resort and exotic wildlife. Thirteen indescribably wondrous, beautiful, gold embossed saloon cars recreate the resplendent living of the bygone era. Come and experience the majestic life-style.
Itinerary and cost on request
Click here for Reservation / More Information